Acid Tank, PH neutralizer system Supplier in Saudi Arabia, Dubai, UAE
CAl Khabeer Water Treatment is among the leading pH neutralizer system supplier in UAE. We provide a comprehensive selection of water filtration and purification systems, chemical, and accessories available for industrial and commercial applications. We also provide options for individualized pH adjustment systems. No one pH neutralization method is universally applicable and will work for all circumstances. Because of our decades of experience, we can engineer systems specifically built to meet the requirements of the wastewater treatment application that you need. Industrial pH neutralization systems built by Al Khabeer Water Treatment provide a variety of alternatives to choose from, allowing for optimal management of wastewater characteristics such as composition, flow rate, operation, and treatment considerations.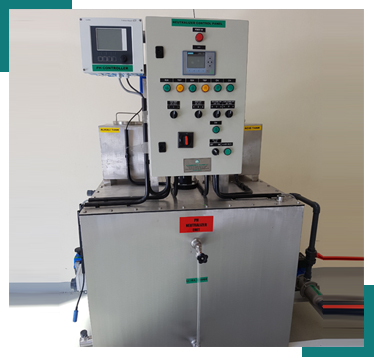 NEUTRALIZATION
The goal of neutralization is to alter the pH value to fulfill the needs of the various wastewater treatment systems. Neutralization can be used to treat acid wastewater containing metals by increasing the pH of the acid waste with an alkaline reagent, forming a precipitate, and collecting the precipitate. As a result, the pH of the incoming solution is changed to the optimal range for precipitating metals as hydroxides. The neutralization phase is undertaken before the clarification (decantation) step to fulfill the overall objectives of wastewater treatment, which is the most crucial step.
PH NEUTRALIZER FOR ACID WASTEWATER LAB
Systems that neutralize pH are utilized in Industrial wastewater processes that are either highly acidic or highly alkaline. Batch and continuous flow pH neutralization systems are utilized in the water treatment process to alter the treated water's pH. Discharging wastewater directly into the environment from chemical processes is detrimental to the health of the ecosystem and drastically decreases the useful life of piping systems and pumps. pH adjustment systems help meet wastewater discharge standards. Our skilled engineers design these extremely reliable, easy-to-install pH adjustment systems. They come pre-packaged and are integrated, offering automatic acid neutralization of industrial wastewater. These cutting-edge pH control systems effectively treat wastewater by adjusting the pH with the appropriate chemicals. Our pH neutralizer for acid wastewater lab is dependable, productive, easy to install, and reasonably priced. The Assured Compliance system employs cutting-edge technology and can manage pH levels outside the typical range. Our pH adjustment systems are designed specifically for laboratories because they can handle low-ion waste streams for the most challenging applications, and are tailored to your specifications.